Take your designs from 2D to 3D in just a few minutes! An easy-(and fun)-to-use tool to enhance presentations, Carlson TerraVision is Carlson's newest offering for civil engineering and survey professionals.

Carlson TerraVision enables users to go from a 2D line drawing to a 3D presentation complete with realistic paving and vegetation textures, trees and greenery, figures, buildings, vehicles, and heavy equipment. The finished depicting can also feature accurate shadowing depending on time-of-day selected.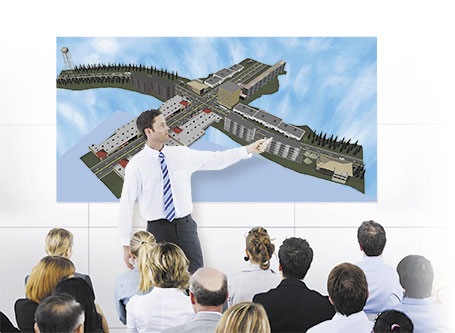 Show, don't just tell. Get near photo-realistic rendering for design presentations.
Better illustrate your plans. TerraVision enables users to provide more realistic images of their plans, thus increasing their viewers' comprehension. Showing a project in 3D with fly-through video enhancement could help to win a project!
Two-dimensional drawings don't tell the whole story, especially if presenting to those not in the civil or construction industry. This could include members of a homeowners association or a city council, or to a commercial or industrial client.
Hardware Specifications:
Intel Core 2 Duo or equivalent
A graphics card that supports DirectX9 and/or OpenGL
2 GB of RAM for WindowsXP SP2
4 GB of RAM for Windows Vista and Windows 7
CD Rom, USB Output
Recommended requirements:
i5 or equivalent
Dedicated graphics card that supports DirectX9 and/or OpenGL
Superior to 4 GB of RAM for Windows 7
CD Rom, USB Output
24-inch screen